Lab News
Lab Reopens After COVID-19 Shutdown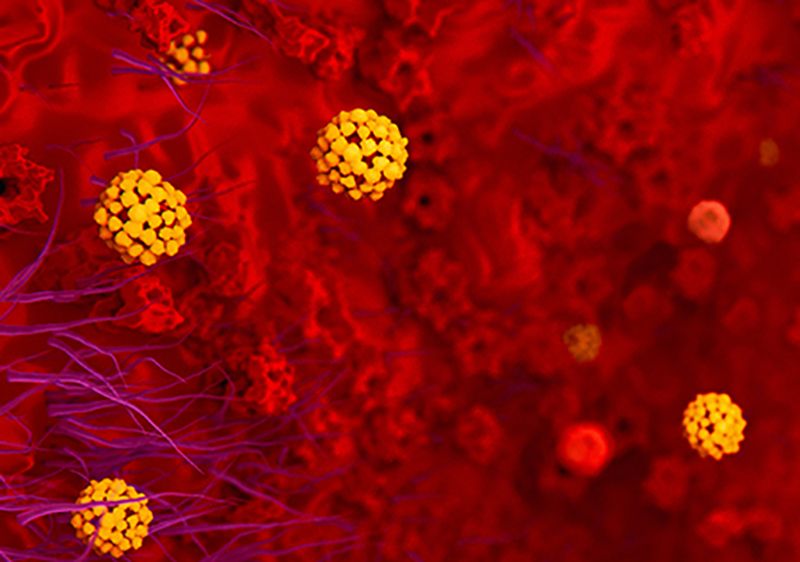 After suspending benchwork in mid-March due to the Covid-19 pandemic, our lab has been approved to ramp up our lab-based research in the near future. Both the University of California, Los Angeles and the College of Life Sciences have provided extensive guidance on necessary safety measures and we are confident we can resume research activities using these precautions.
Lab Administrator Lauren Bowman Receives Doctorate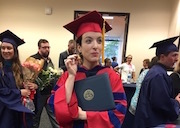 Lauren defended her dissertation in the fall of 2017, and was hooded at the University of Illinois at Chicago on May 14th. She has been part of Goldberg Lab since January of 2014.
Symposium to Celebrate Dr. Bob Fischer's Career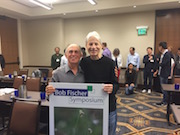 Science and celebration were the focus of a symposium the weekend of April 22-23rd at the UCLA Luskin Conference Center. Former undergraduate, graduate, and postdoctoral students gathered to honor Dr. Fischer's career and share their research, illustrating Dr. Fischer's scientific legacy in action.
2015 Stephen Hales Prize awarded to Bob Goldberg

Bob Goldberg has been selected as the recipient of the 2015 American Society of Plant Biologists Stephen Hales Prize, which is "a monetary award established in 1927 for a scientist, whether or not a member of the Society, who has served the science of plant biology in some noteworthy manner."
Bob Goldberg quoted in LA Times article covering the LA City Council's decision to ban growing GMOs in the city

"In an interview, Bob Goldberg, a UCLA plant molecular biologist and a member of the National Academy of Sciences, said that genetically modified crops are no different from those that farmers have been selectively breeding for centuries, and they pose no added health risk. 'There's not been one documented case of a sneeze from anyone eating a genetically modified papaya,' he said."
Plant Developmental Biology Symposium at UCLA held in honor of Bob Goldberg's 40 year career in plant molecular biology

On April 11, 2014, over 150 students and scientists from all over the world gathered at UCLA to participate in a one day symposium on plant developmental biology, focusing specifically on the seed. Two prominent figures in the field, Dr. Marc Van Montagu and Dr. Eric Davidson, provided keynote talks, while various former Goldberg lab members and colleagues presented research.
Click here for more info or to watch videos of the symposium presentations
PhD Student Kelli Henry Successfully Defends Thesis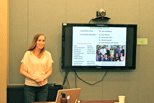 Kelli Henry successfully defended her thesis, entitled "Identifying cis-Regulatory Elements and trans-Acting Factors that Activate Transcription in the Suspensor of Plant Embryos" on May 30th in front of a four person committee at UCLA, including Chair Dr. Bob Goldberg. Dr. Henry's work on scarlet runner beans contributes new knowledge to the field of plant genetics concerning the gene regulatory networks governing seed development. She plans to continue this focus on understanding seed development in her future research.
Dr. Goldberg writes GMO editorial for the Los Angeles Times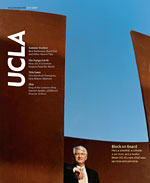 December 5, 2004 -- During the next 50 years, we will need to produce more food than in the entire history of mankind. And we will need to do this on a rapidly shrinking amount of land that is suitable for agriculture. Los Angeles illustrates this point dramatically. In the 1920s, Los Angeles County was one of the most productive agricultural areas in the United States. Bean fields, citrus orchards and dairy farms were scattered across the county...
Bob Goldberg Elected into the National Academy of Sciences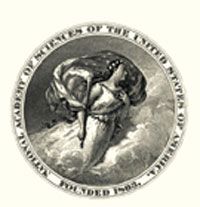 UCLA plant biologist Robert B. Goldberg was elected today to the prestigious National Academy of Sciences "in recognition of his distinguished and continuing achievements in original research," the academy announced Tuesday... Read more
Los Angeles Times Interview by Greg Goldin
Robert Goldberg: Seeds of Contention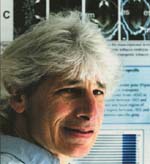 Sunday, September 2, 2001. UCLA molecular biologist Robert B. Goldberg wants to understand in plants what stem-cell researchers want to understand in humans: How the undifferentiated molecules of a seed develop from nearly identical dabs into highly specialized plant parts... Read more