Public Outreach
Dr. Goldberg Moderates GMO Documentary Panel

On November 21st, Dr. Goldberg acted as moderator for a panel discussion following a screening of the documentary 'Food Evolution' at the Hammer Museum in Westwood. The panel, which included Dr. Neil DeGrasse Tyson, director Scott Kennedy, and Bill Nye the Science Guy, had a lively and informative discussion, taking questions from the audience about both the social and scientific implications of GMOs.
Dr. Goldberg Takes Part in Zocalo Panel on GMOs

Dr. Bob Goldberg was part of a Zocalo panel regarding the safety and public perception of GMOs on Wednesday, December 14th. The lively discussion highlighted the disconnect between the public's fear of GMOs and the considerable scientific data supporting their safety.
Discovery Science Center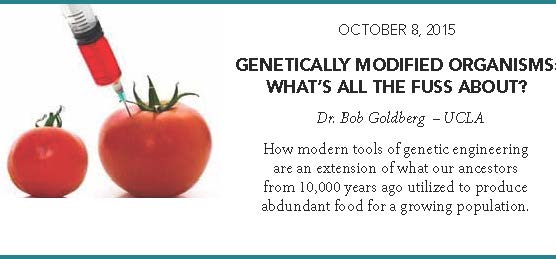 Dr. Goldberg spoke at the Thousand Oaks High School Performing Arts Center on October 8th, educating students and community members about genetically modified organisms and their role in feeding an increasingly hungry world.
Click here for a flyer outlining The Discovery Center's Science Speaker Series
Bob Goldberg gives an invited lecture at the Center for Inquiry-Los Angeles on the topic of GMOs

"In a 'Feed Your Brain' Lecture at CFI-Los Angeles, UCLA Prof. Bob Goldberg told a full house about the validity of the science of genetically modified organisms (GMOs), and the mythologies being spread about their alleged dangers."