Using Giant Bean Embryos To Dissect Early Embryo Development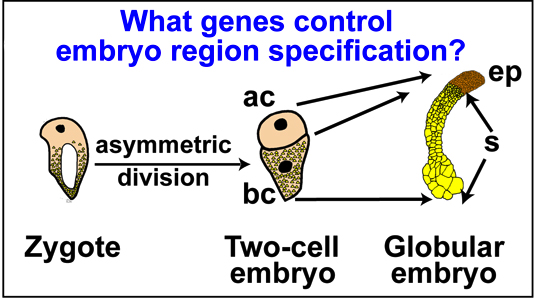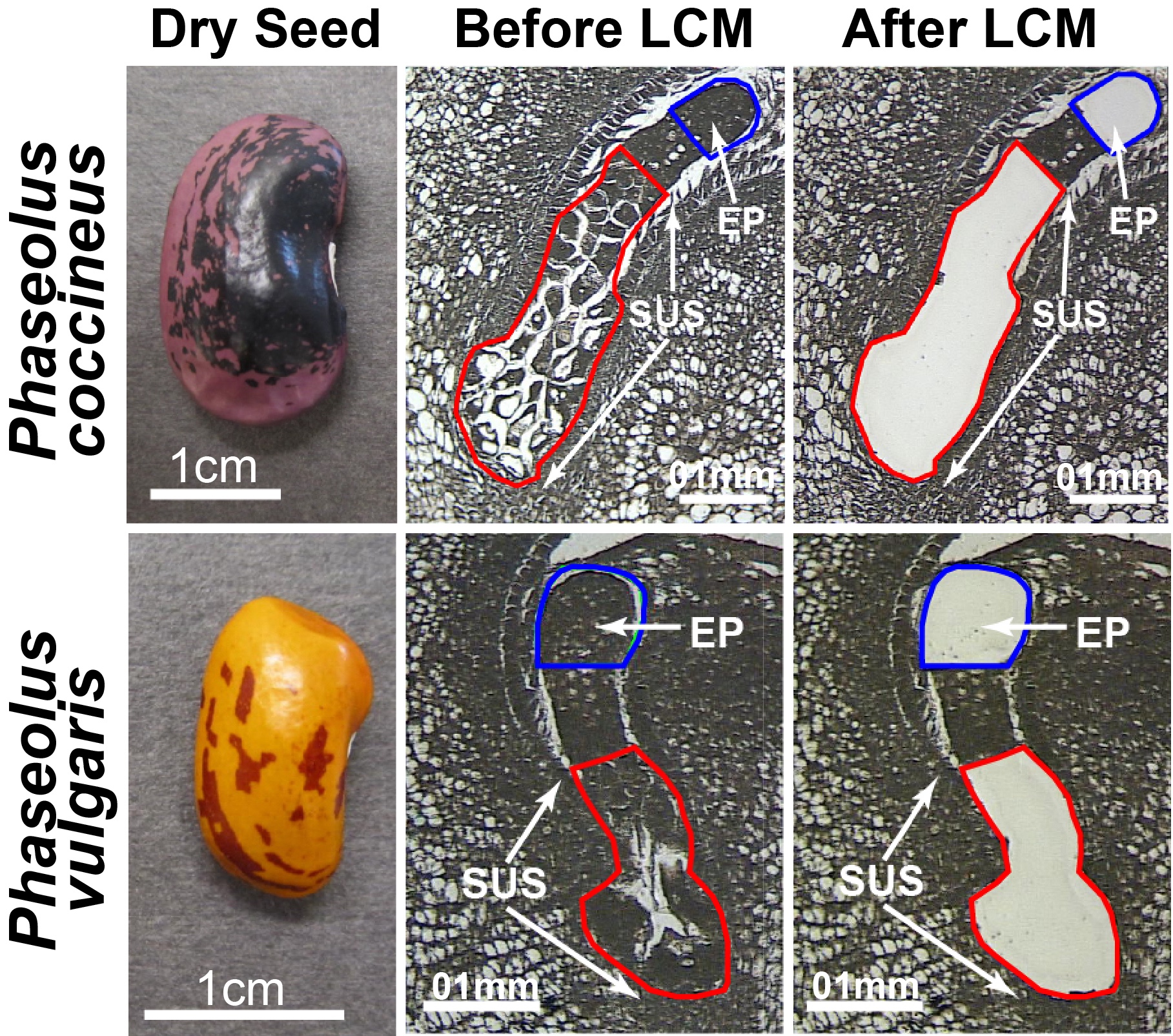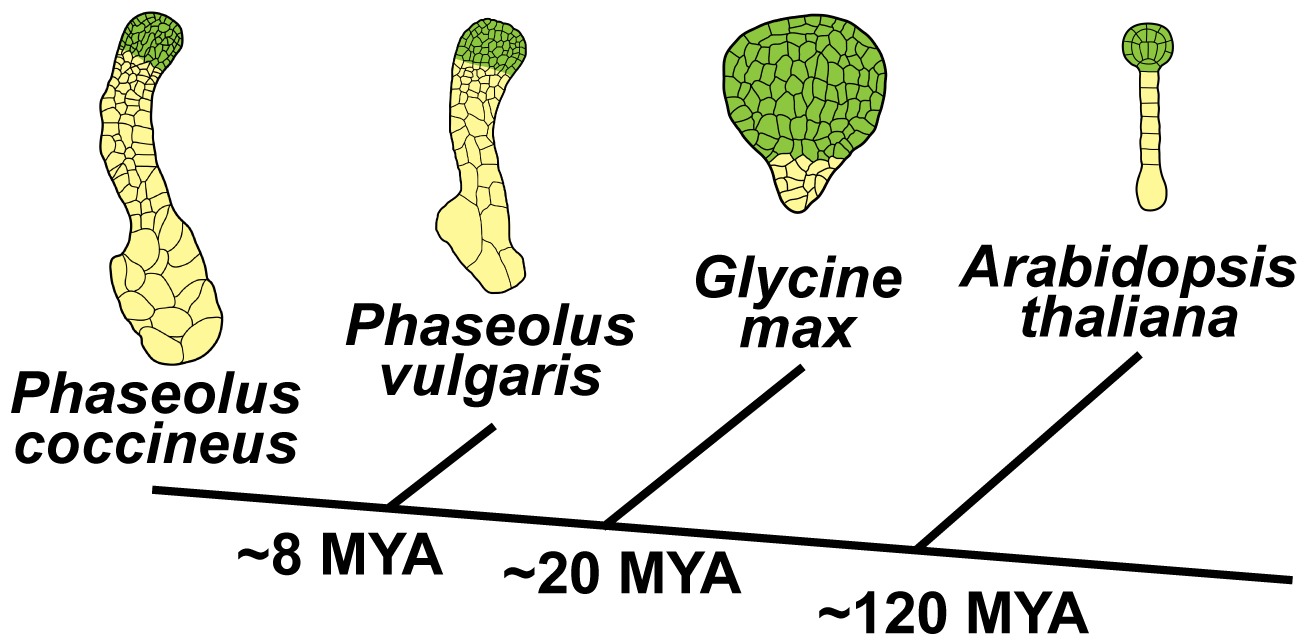 The Scarlet Runner Bean (Phaseolus coccineus) provides a novel opportunity for dissecting the molecular processes controlling plant embryo development. At the globular stage, the Scarlet Runner Bean embryo is ~100-times larger than that of Arabidopsis, contains a suspensor with 200 cells that is highly polyploid, and can be isolated directly from developing seeds within the flower. Because of its large embryonic size, both embryo proper and suspensor regions can be separated from each other manually and used directly for biochemical and molecular studies. Almost 50 years ago, the late Ian Sussex and his collaborators pioneered the use of giant Scarlet Runner Bean embryos, and provided the first insights into the molecular processes controlling early embryogenesis; for example, the suspensor produces signals that are required for embryo proper development. During this same period, others demonstrated that hormones, such as gibberellic acid, are synthesized within the giant Scarlet Runner Bean suspensor and contribute to embryo proper formation. The ability to manually isolate large numbers of globular stage embryo proper and suspensor regions, in addition to using state-of-the-art laser capture microdissection (LCM) techniques, provides a unique opportunity to use the Scarlet Runner Bean to gain entry into the earliest events in plant embryogenesis - complementing the elegant studies that can be carried out with Arabidopsis, maize, and rice. In addition, Scarlet Runner Bean is a close relative of the agronomically important Common Bean (Phaseolus vulgaris) that has a similarly large embryo and a substantial amount of genomic resources, including a genome sequence, which can be used as a surrogate for the Scarlet Runner Bean.

Our laboratory has resurrected the use of Scarlet Runner Bean for the study of early plant embryo development. We have sequenced thousands of expressed sequence tags (ESTs) from embryo proper and suspensor regions, used in situ hybridization and RNA-Seq to identify embryo-proper and suspensor-specific mRNAs, uncovered a suspensor cis-regulatory module that activates region-specific transcription of genes within the suspensor shortly after fertilization, and generated a rough draft of the Scarlet Runner Bean genome. Recently, we compared the transcriptomes of Scarlet Runner Bean with those of the Common Bean, soybean, and Arabidopsis. These experiments showed that giant bean suspensors carry out highly specialized metabolic functions, particularly those involved in hormone function, as compared with the less specialized soybean and Arabidopsis suspensors. In addition, we identified a set of embryo proper- and suspensor-specific transcription factors (TFs) that are shared by these species and might play a role in the specification processes controlling embryo proper and suspensor development shortly after fertilization. ChIP-Seq experiments are being carried out with these conserved TFs to uncover their target genes and construct regulatory networks controlling the earliest stages of embryo development.
References (click to download Pdf):
Weterings, K., Apuya, N.R., Bi, Y., Fischer, R.L., Harada, J.J., and Goldberg, R.B. (2001). Regional localization of suspensor mRNAs during early embryo development. Plant Cell, 13, 2409-2425

Le, B. H., Wagmaister, J.A., Kawashima, T., Bui, A. Q., Harada, J.J., and Goldberg, R.B. (2007). Using genomics to study legume development. Plant Physiology 144, 562-584 (doi.org/10.1104/pp.107.100362).

Kawashima, T., Wang, X., Henry, K.F., Bi, Y., Weterings, K., and Goldberg, R.B. (2009). Identification of cis-regulatory sequences that activate transcription in the suspensor of plant embryos. Proc. Natl. Acad. Sci. USA, 106, 3627-3632.

Henry, K.F. and Goldberg, R.B. (2015). Using giant scarlet runner bean embryos to uncover regulatory networks controlling suspensor gene activity. Frontiers in Plant Science 6, 44, 1-6.

Henry, K.F., Kawashima, T., and Goldberg, R.B. (2015). A cis-regulatory module activating transcription in the suspensor contains five cis-regulatory elements. Plant Mol. Biol. 88, 207-217.

Henry, K.F., Bui, A.Q., Kawashima, T., and Goldberg, R.B. (2018). A shared cis-regulatory module activates transcription in the suspensor of plant embryos. Proc. Natl. Acad, Sci. USA. (2018). 115 (25) E5824-5833.

Chen, M., Bui, A.Q., and Goldberg, R.B. (2020). Using Giant Scarlet Runner Bean (Phaseolus coccineus) Embryos to Dissect the Early Events in Plant Embryogenesis. Plant Embryogenesis: Methods and Protocols, Methods in Molecular Biology, vol. 2122, 205-222 (doi.org/10.1007/978-1-0716-0342-0_15).

Click Here to Visit The Scarlet Runner Bean Embryo EST Project Website