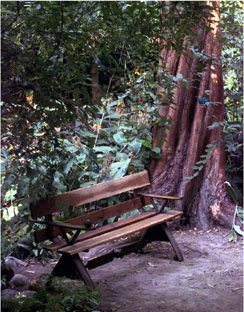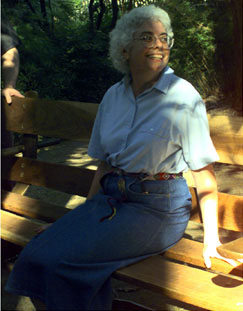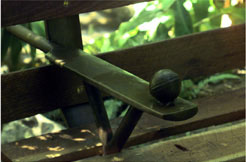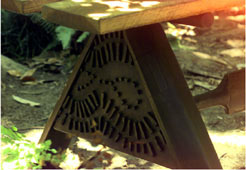 Thoughts from the artist on the dedication of the bench for Philip Thornber. August 14, 1997
"The idea for the bench was generated by a visit to Philip's environment: his home, his lab, and the gardens at UCLA. Three elements of Philip's life surfaced which directed the creative process: his professional interest in etioplasts and chloroplasts; his new discovery and immersion in Australia and its Aboriginal peoples; and his basic British roots and love of cricket.
I made a group of sketches and then discovered in a conversation with Elaine that cricket was an abiding PASSION in Philip's life, so I decided to use those roots in the form of a cricket bat as a theme for the bench. His interest in Aboriginal Australians is echoed in a panel at one end of the bench with a design intended to create the feeling from their art that intrigued him. The panel at the other end is a copy of a print of a chloroplast, surprisingly similar to the ./images in Aboriginal art.
The tool-marked wooden seating slats are used to emphasize his passion for wood and careful craftsmanship. The overhangs beyond the end pieces are intended for children, inspired by Philip's growing family of grandchildren and certainly built to be climbed upon. The overhang is also a surface that can be used to hold a drink or one's lunch.
To capture Philip's love, a bench that old and young alike can truly enjoy and use would no doubt delight the man to whom it is dedicated. The notion of his delight in its use and its construction should bring joy to those who knew him.
Did I mention cricket?"
Alan Paulson
Gettysburg, PA
BACK to E. Tobin homepage. Mildred E. Mathias Botanical Garden