GENE DISCOVERY LABORATORY
Distribution of Students That Have Taken the HC70AL Gene Discovery Laboratory
One of the unique aspects of HC70AL is the breadth of undergraduate majors and levels represented by students in the class. Freshman work side-by-side with seniors, and life science students that will become molecular biology, microbiology, and biochemistry majors team up with philosophy, business, and communication majors, among others, in carrying out their experiments. Kyoto University students also participate in HC70AL, providing an novel cross-cultural laboratory experience for everyone involved. During the past six years, 61 students took HC70AL, representing 15 different majors. Approximately 30% of the students were undeclared, and approximately 45% of the students were non-science students, and the remainder entering life science students who had declared a major but were just beginning the core curriculum required of all life science students at UCLA. The pie charts shown on this page summarize the HC70AL student population over the past six years.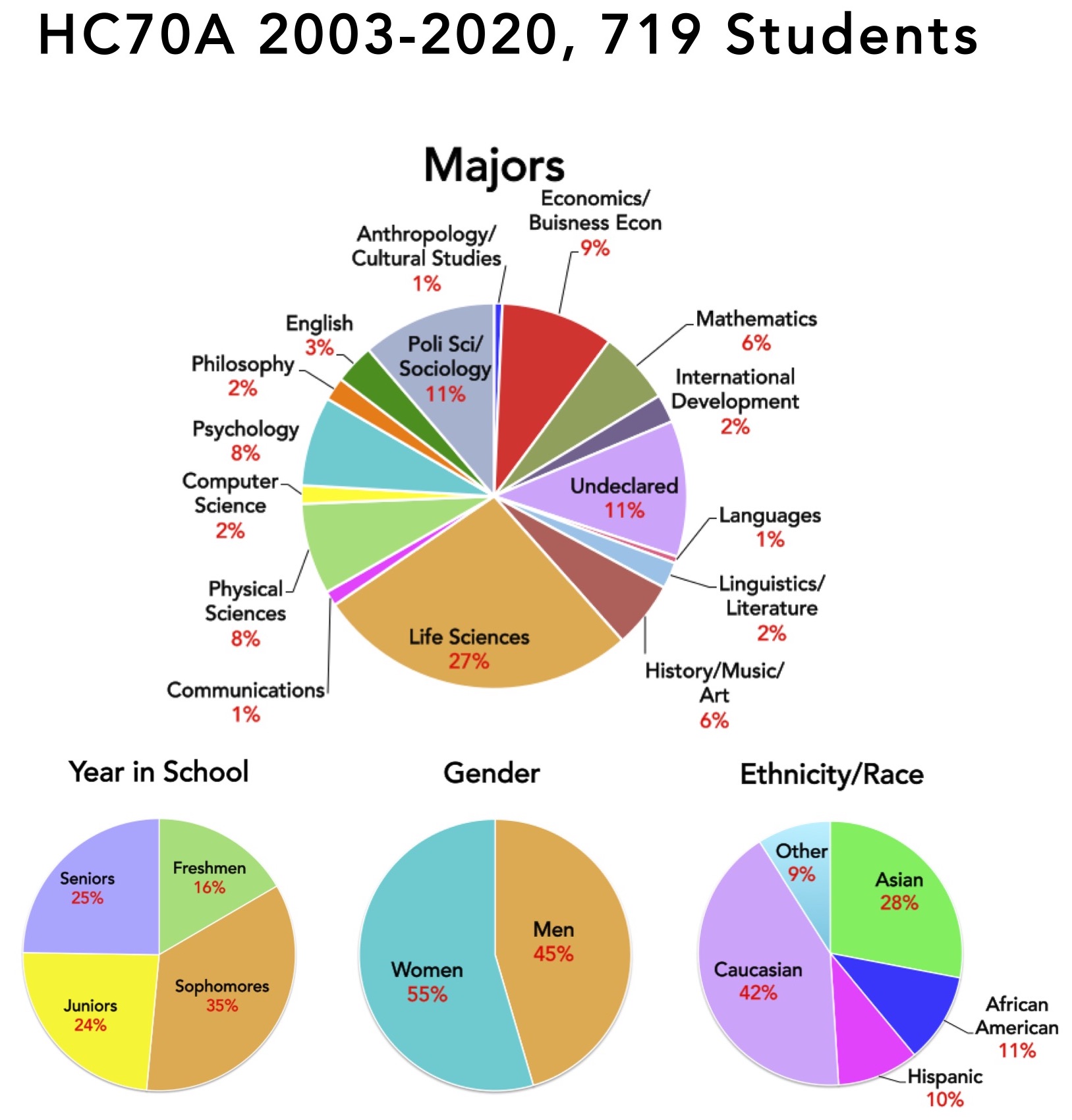 GENE DISCOVERY LABORATORY QUESTIONS, APPROACHES, AND RESULTS
Research carried out in Bob Goldberg's laboratory has identified transcription factor (TF) genes that are active at specific stages of seed development using genomics with a large number of microarray experiments. These studies profiled gene activity in whole seeds, as well as in every tissue, compartment, and region of both Arabidopsis and soybean seeds throughout development using laser capture microdissection (LCM) technology. A description of this NSF-funded research project and results of all the microarray experiments are available on the project website (click here to visit the project website). HC70AL undergraduates have used reverse genetics to identify and characterize knock-outs in seed-stage- specific and/or seed-tissue-specific TF genes identified in the microarray experiments, and begin to answer the question of what role these TF genes perform in seed development. The Arabidopsis knock-out lines were generated at the Salk Institute (click here to visit Salk website). In addition, HC70AL students cloned and sequenced the promoters of each TF gene they investigated to give them hands-on experience in genetic engineering - the focus of their HC70A experience - and to use in promoter-reporter gene fusion experiments in the future to study the location of TF gene transcription within the seed. During the past six years, 103 Arabidopsis seed TF gene knock-out lines have been identified and characterized by HC70AL students, who had never held a pipette before.
In 2009, HC70AL students carried out a group project that sequenced the Scarlet Runner Bean (SRB) genome using high-throughput sequencing technology. 1.1Gb of SRB DNA sequences was obtained and assembled into 278,000 contigs. HC70AL students annotated 242Kb DNA sequences and identified 36 genes that were supported by EST sequences in our SRB EST database.
Click here to browse the range of topics and questions addressed in lecture
Click here to browse the unique methods and approaches used to teach the lecture section
Click here to browse the Winter 2020 HC70A course syllabus
UNDERGRADUATE RESEARCH TOOLS DEVELOPED FOR THE GENE DISCOVERY LABORATORY
Gene Discovery Laboratory Lab Manual
A comprehensive set of experiments and protocols was written for undergraduate laboratories using genomics to study the function and activity of plant genes. This lab manual was designed to be used by both non-science and science majors. The Gene Discovery Lab Manual introduces students to basic molecular biology techniques and contains week-by-week experiments that allow undergraduates to use reverse genetics to identify T-DNA knock outs in Arabidopsis genes, describe the expression pattern of wild-type and mutant Arabidopsis genes, amplify and clone Arabidopsis gene promoters, and use microscopy to study wild-type and mutant seeds phenotypes. Detailed protocols are provided for DNA sequencing, PCR, RT-PCR, bioinformatics to characterize gene structure and T-DNA insert sites, planting seeds and growing Arabidopsis plants, isolating DNA and RNA, and using Nomarski optics to study seed and embryo phenotypes, among others.
Click here to download the HC70AL Summer 2014 Gene Discovery Lab Manual (PDF size: 10.3 Mb)
Interactive Lab Webbook
An web-based interactive laboratory webbook was created that allows students and instructors real-time viewing of all experiments and results obtained in the Gene Discovery Laboratory. Students use the webbook to organize, summarize, and post their research results. In addition, protocols can be uploaded to the webbook and linked to each experiment. The webbook uses a relational data base and is designed to be used in any undergraduate laboratory course or research laboratory.
Click here to browse the webbook students use to manage experiments and results
Click here to download the webbook program (un-compress the ZIP file using Winzip (Windows) or Stuffit Expander (Mac)
GENE DISCOVERY LABORATORY FINAL SYMPOSIUM AND LAB COAT CEREMONY
At the end of the quarter, undergraduates give PowerPoint presentations of their research results at the final class symposium. Groups of students present an overview of seed development and the features of each transcription factor family investigated during the quarter, providing an introduction and background information for the symposium. Each student then gives a ten minute talk on their specific research results. At the end of the symposium Bob Goldberg presents a cake to the class decorated with a relevant design, and presents each student with a lab coat embroidered with their name, class year, and Goldberg Laboratory in honor of their hard work and participation in the gene Discovery Laboratory.
Click here to download a sample PowerPoint presentation from a non-science student from Summer 2014 class
Click here to download a sample PowerPoint presentation from an entering life science student from Spring 2011 class
Click here to download a sample PowerPoint presentation from an entering life science student from Spring 2009 class
Click here to download a sample PowerPoint presentation from a non-science student from Spring 2008 class