BOB GOLDBERG'S CLASS ASSESSMENTS
Assessment of Bob Goldberg's NSF sponsored program was carried out in several ways:
Students evaluated HC70A and HC70AL at the end of each quarter as part of the UCLA course evaluation system.


Students evaluated the undergraduate teaching fellows in HC70A.


An HC70A survey conducted on the first and last days of the quarter in order to compare student attitudes towards a range of genetic engineering issues.


Students who took both HC70A and HC70AL were given a questionnaire that addressed the impact of these classes had on their academic career, their understanding of how science is carried out, and their view of the excitement of discovery.


Each HC70AL student was given an exit interview to discuss the strengths and weaknesses of the lecture and laboratory and how to improve the program.


Undergraduate teaching fellows and peer laboratory mentors were inteviewed by Bob Goldberg to assess the impact that teaching HC70A and/or HC70AL had on their future goals and objectives.
In 2009, the UCLA Center for Educational Assessment engaged in a review to document students' perspectives on their experiences in HC70A and 70AL, assessing the impact of these courses on student learning outcomes, and capturing the impact on former students who became undergraduate Teaching Fellows and Peer Research Mentors in HC70A and HC70AL. Qualitative research methods were applied to three data sources: (a) UCLA's official open-ended course evaluations for the lecture and lab courses; (b) course exit questionnaires; and (c) interviews conducted with former HC70A and HC70AL students who also served as Teaching Fellows in HC70A and Peer Research Mentors in HC70AL. The student comments from three data sources were coded and analyzed. Overall, the results revealed that this teaching program had a significant positive impact on student learning. Click here to read the full assessment report.


Assessment of Course Evaluations of HC70A and HC70A (up to 2009)
In both the lecture and lab course evaluations, students frequently commented on the numerous strenghths of the course and professor. They praised professor Goldberg's use of the Socratic Method to actively engage students in learning the course content. Students also claimed that while the courses were extremely challenging, they were academically and personally rewarded. Major assessment results are outlined below.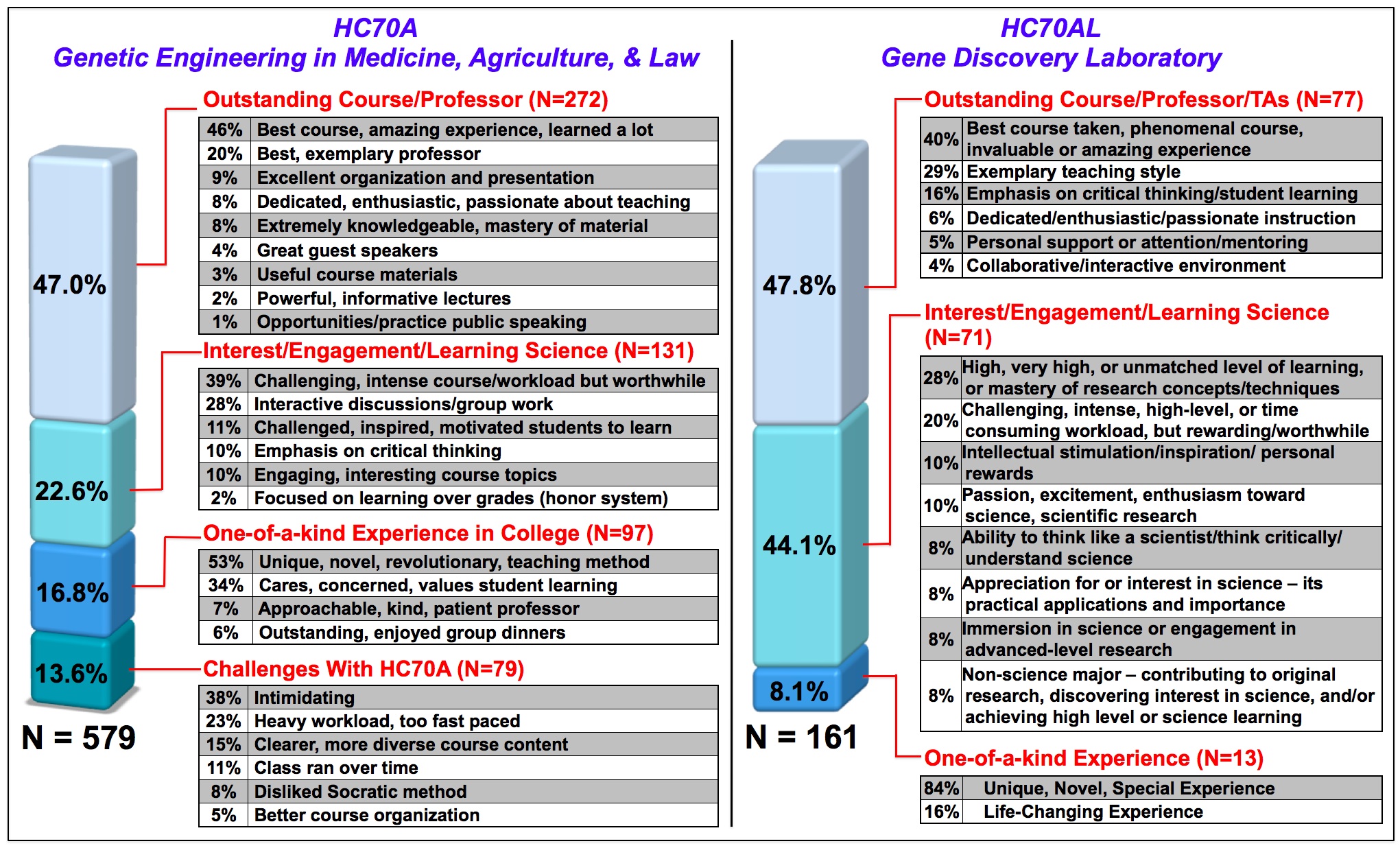 1. After-class course evaluation of HC70A gave the course and professor average ratings of 8.6±0.3 and 8.5±0.3, respectively (on a 1-9 scale, with 9 being high). This compares with average course and professor rating from all Honors Collegium classes over the same period of 7.9±0.14 and 8.1±0.15.

2. 47% of 579 coded comments by HC70A students on their evaluation indicated that HC70A was a "one of a kind experience" and Professor Goldberg was an "outstanding course/professor".

3. 23% of the coded comments indicated a positive learning outcome with regard to science, including emphasis on critical thinking, engaging topics, and that the class challenged and motivated students to learn.

Similar to the HC70A results, HC70AL students gave the course and professor a near-perfect rating 8.95±0.1, and 48% indicated that HC70AL was outstanding.
Assessment of Exit Questionnaire Comments From Students Who Completed HC70A and HC70AL
Analysis of exit questionnaires indicated a significant positive impact on student's knowledgge of genes and gene activity processes, interest in persuing further research and science, how students view scientists/the process of scientific discovery, and how science is carried out.

Assessment of Course Evaluations of HC70A and HC70A (up to 2009)
2021
"Without a doubt, one of the best classes I have ever taken in my life. Dr. Goldberg was absolutely amazing. I just wish more classes could be like this."
"This is a great class! I just enrolled in it by chance, but I think it will be one of the best classes I take at UCLA. "
"This was my favorite course I have taken so far at UCLA."
"Clearly, everyone working on this class cares deeply about the material and the students which was so nice and validating."
"The course has definitely required a lot of constant effort with weekly quizzes and readings, but I feel like I have never learned so much in a class."
Click here to download and read students' evaluation comments from HC70A spring 2021 class.
2020
"Dr. G cares immensely about his students and giving them the opportunity to master the material he so passionately shares with us. I could tell how much the topics we were learning meant to him and how much he genuinely wanted to share his knowledge and experiences with his students."
"Overall I think this class is one of the greatest classes I have taken in UCLA and I'm grateful for being a part of it and making friends as a graduating senior!"
"I have never learned more in any class that I did in this one. Professor Goldberg's teaching style is definitely very unique, but it is clear that he cares a lot that the students genuinely learn."
"Goldberg is the best professor I have had hands down! Other professors should adopt this teaching style. I truly learned so much!"
"I'm sure every student will say this, but easily the best class I've taken at UCLA. Both the most interesting, well-structured, and most informative."
Click here to download and read students' evaluation comments from HC70A winter 2020 class.
2019
"As someone who went into this class with very little interest and skill in genetic engineering, I can honestly say that I've left it with a greater appreciation for the entire topic material."
"Best professor I've ever had. Nothing else to say. All classes should be like this at UCLA."
"I have learned a lot and experienced tremendous growth while being in this class, and I would recommend it to anyone."
"I loved this class! it was absolutely amazing and i felt like i really learned so much, even as a bio major."
"Hands down the most memorable class in my college career. Thank you for everything Dr Goldberg!"
Click here to download and read students' evaluation comments from HC70A winter 2019 class.
Student Comments About Undergraduate Teaching Fellows
Evaluations of the undergraduate teaching fellows in HC70A were comparable to the course and instructor evaluations in terms of high ratings


"The discussions, led by a phenomenal team of caring TAs, were based off of intriguing articles relevant to the week's subject matter, and the entire teaching team was always willing to spend time further reviewing material during section. I admire the compassion of the entire teaching team as well as their love of the material, which is clear in the way they instruct.--comment for Pierce Ford, Ava Gordon, & Kelli Henry, Spring 2021.
"Maddie was very engaging and made sure everyone was involved. She also made sure that everyone thoroughly understood the material and was knowledgeable enough to spot and correct mistakes. She was fun and informative!--comment for Madelyn Gehrich, a MCDB undergraduate teaching fellow in 2019-2020.
"Pierce was extremely knowledgeable about the subject material. Although the expectations were very high, he always made sure that we understood the material and took the time to help us figure it out ourselves. It seems like he cares very much about the students, and was always helpful and very approachable for office hours. He was one of the best TA's I have ever had at UCLA.--comment for Pierce Ford, a MCDB undergraduate teaching fellow in 2017-2019, now a lab assistant at UCLA.
"Helen was a great teacher assistant and always put the students first. She is very honest and expects to help students in their time of need." -- comment for Helen Li, an economics undergraduate teaching fellow in 2017-2018 now a project manager at ZL Technologies
"Mike is a great teacher and I love the way he presents concepts through leading questions and breaks down complex concepts into more understandable components." -- comment for Mike Lyons, a MIMG undergraduate teaching fellow in 2013-2014 now a Ph.D. student at Stanford.
"Reece was always very helpful and clear. The constant attention and respect is unbelievable." -- comment for Reece Fenning, a MIMG undergraduate teaching fellow in 2013-2014 now a medical student at UC Irvine.
"Will is an exceptionally talented TA and instructor in terms of both his ablilty to explain and translate his knowledge of the material to students." -- comment for William Barshop, a graduate teaching fellow in 2014, now a postdoc at UCLA.
"I really truly seriously honestly cannot say enough good things about this class. It's made me reconsider my major, my life goals, my life in general."--2014
"I don't know if the instructors had any weaknesses. They worked extremely hard, often staying in the lab late at night or on the weekends to help us with our experiments. I really appreciate all that they did for us."--2014
"This course is one of the most interesting and unique classes I have ever taken at UCLA." -2014
"I am a non-science major so taking this class has been a completely new experience. I absolutely loved the course because of the critical thinking application and I am extremely grateful for this opportunity."--2014
Click here to read the results from the HC70AL student questionnaire.