THE STUDENTS
HC70A, which is enabled through NSF support, reaches students from all majors, on all possible career paths. For example, freshmen debate seniors, entering life science students help non-science students, and classics majors exchange ideas with future biochemistry majors. A unique collective exists in which students representing the ideas, views, and backgrounds of a cross section of the UCLA campus come together to learn and discuss issues related to the impact of genetic engineering and genomics on society. During the past 18 years, 719 students took HC70A, representing 25 different majors. Women outnumbered men. More than 50% of the students were non-science students, and 27% were life science students who had declared a major but were just beginning the core curriculum required of all life science students at UCLA. In addition, there was almost an even distribution among first, second, third, and fourth year students (freshmen are represented at slightly lower levels). The pie charts shown on this page summarize the HC70A student population over the past 18 years.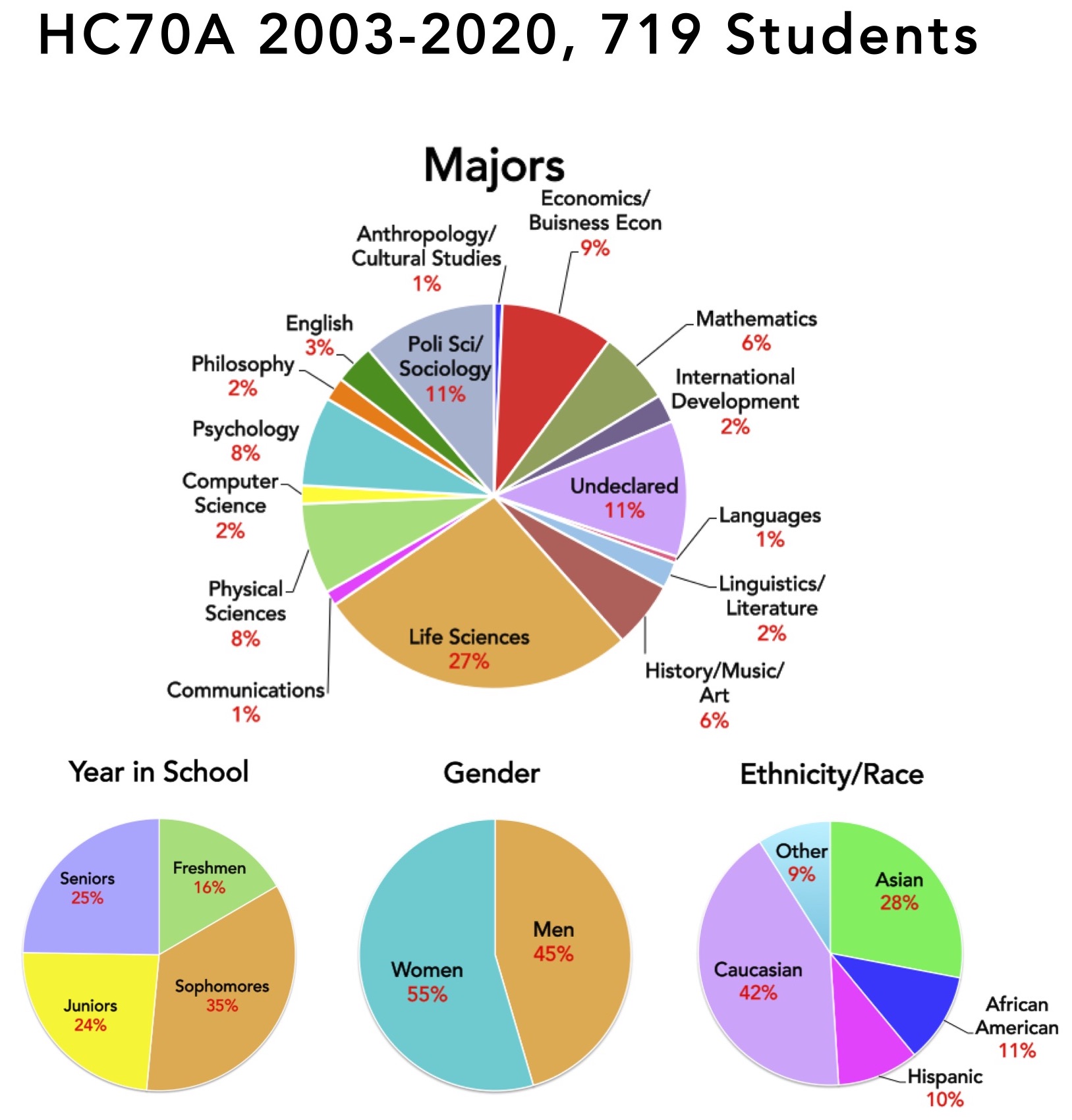 THE LECTURES
The lecture section is fast-paced, media oriented, highly interactive, and makes extensive use of group learning to teach students how to problem solve and think critically about how major scientific discoveries are made. A variety of unique methods and approaches are used to teach students how to think critically about the questions addressed in lecture.
Click here to browse the range of topics and questions addressed in lecture
Click here to browse the unique methods and approaches used to teach the lecture section
Click here to browse the Winter 2020 HC70A course syllabus
Bringing Science to Life in the Classroom
The most rewarding aspects of being a scientist is experiencing the excitement that comes from seeing something "new" for the first time. This is what is most often left out of the traditional classroom education. HC70A in-class demonstrations and hands-on "mini-experiments" are used in HC70A and allow students to take part in a real scientific process, bringing science and the excitement of discovery into the classroom.
Group Oral Exams
The group oral exams teaches students how to speak in public and think on their feet. Exam questions utilizes an integrative approach that emphasizes experiments, problem-solving, and connections between different subjects. The oral exam consists of groups answering questions as well as challenging other groups with questions. This format fosters student/student exchanges that challenges students to become "their own teachers".
Using Multimedia to Enhance Class Lectures
HC70A makes extensive use of state-of-the art audio-visual equipment and handouts and so that students can listen in class, interact, and participate in discussions, rather than passively receiving information. Videoconferencing software allows other participating campuses to join in as well, and handouts of all notes and figures are scanned, digitized into a PDF-formatted file, and uploaded on the class web site for student use.
Click here to view and download class handouts of Winter 2020.

Lectures are digitally streamed on the class web site and can be accessed 24 hours a day. Lectures are recorded by the Bruincast office, and both Dr. Goldberg and the student use microphones to provide good quality audio. Lectures recorded by Bruincast are also streamed via laptop to distance learners at places like Tuskegee University, allowing real-time participation in the course. The Bruincast office produces videos of every class session that are posted on the class website. Lectures are viewable within an hour after the class has ended.